Fiverr is an excellent source for freelancers whether you're buying or selling. It's a fairly easy program to use and you can make some money with Fiverr IF you know what to do. I will provide all the necessary tips for you in my Fiverr. Com Review.
My Fiverr. Com Review
What Exactly is Fiverr?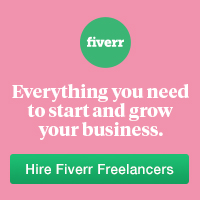 Fiverr is a marketplace on the internet that has sellers and buyers from around the globe offering a wide variety of services and digital tasks. The sellers are the freelancers and the buyers are the customers who look to hire them to perform different job such as blogging.
Working Online From Home
Start Your Own Online Business
Learn the 4 Steps to Learn to Work Online From Home. Follow the Guide Step-by-Step. Includes Training, Support, & All The Required Tools to Get Started Online.
In the beginning fiverr services were exclusively $5. There was such resistance against this back in the year 2014 because buyers were adamant against the fact that some wanted more and better services even if they had to pay more for it.
Fiverr granted this and the changes were made. Some services can be as high as $1,000, but most aren't anywhere near that mark.
Who is Fiverr for and how does it Work?
As I mentioned, Fiverr is for the buyer and for the seller. I hire through Fiverr all the time. I just got listed as a seller too. Let's briefly look at both, shall we?
Buyer
You want to purchase most likely a service on Fiverr as I do regularly. When you're extremely busy with other tasks, in most cases it may be beneficial for you to hire someone on Fiverr. There are many different "jobs" that you either cannot do or do not have the time to do yourself.
For my business it's kind of like having an employee. You may be looking for someone who can do graphic design, make a video, or write articles for you. That's what I use Fiverr for. I've used Fiverr searching for writers who used to help me with writing my books too.
How to Start a Blog and Make Money in 2021
An Easy Guide to Start Blogging Today
Anyone can start and blog about anything in the world today.
I will show you how to do this in 4 easy steps.
There's a ton of different services that Fiverr offers. The services are endless. Need a song written? A resume? Greeting Card? Let's see some results for "build a website" below:
Here are some more for hiring a writer and resume and cover letters:
It's your call. You're doing the hiring. Remember you "get what you pay for."
Seller
If you're looking to work for Fiverr and you have specific skills that you can use and make money with, then sign up as a seller.
It's as easy as signing up with Fiverr.
You register with Fiverr, construct your profile, present what services you can offer and wait for the orders to come in! But you should realize that there are a lot of freelancers on Fiverr and a great deal of competition. The key is to have an awesome profile (be honest) and start out as cheap as you can afford to go.
Ratings and reviews get you more work down the line. As you build a great reputation, your workload increases as does your income.
How Do I Create My Fiverr Profile?
You only need one account with Fiverr. You have the option of either buying a service or selling one. You can create an account for free! Go to Fiverr.com and sign up for free! All you need is an email address.
Buying on Fiverr
I've been buying on Fiverr for a good number of years now. Once your account is completed, you do a search for the freelancer who is offering the service that you are looking for. Make sure you spend enough time searching for at least two or three freelancers that will fit your needs. Once you select your freelancer, you then buy the service. As soon as you take care of the billing (Paypal is my option), then you proceed with contacting your seller for instructions.
Your payment is held by Fiverr and not released until your project is completed and you are satisfied with the work done by your freelancer. If you're dissatisfied, you can ask for a refund. Payments are made by credit or debit card or as I mentioned the one I use is Paypal.
Making the Right Choice
1) Take your time and read the reviews. The more reviews a seller has the better, but it could mean a longer time to complete your gig.
2) Gray hearts at the bottom of their profile denote them as favorites.
3) Yellow hearts with a number mean more positive reviews.
4) Sellers most likely list a basic package, but may also have other premium listings you can choose as well.
Selling on Fiverr
So creating an account is where you begin. Create your gig by navigating to the sellers dashboard. Once you've done this, here are your the 7 steps you need to do:
1)  Select a category after naming your gig. Here are the 9 categories to choose from below:
Graphics & Design
Digital Marketing
Writing & Translation
Video & Animation
Music & Audio
Programming & Tech
Business
Lifestyle
Industries
2) Next you generate your gig package. The thing with Fiverr is like most other companies, sellers offer premium packages. I've seen this countless times on Fiverr where sellers offer multiple packages as premium. It's entirely up to you if you want to include these and what price you set your each, but I would suggest not doing this when you are first starting out. Get the experience first and some gigs and reviews under your belt.
3) Provide a detailed description of what your gig is about. This is THE part of selling yourself that will bring in the buyers.
4) Frequently Asked Questions section gives your potential client a chance to get to know more about your gig before they potentially hire you.
5) It's now up to you to make sure that the buyer provides you with ALL the information needed to commence the job. For example if you offer writing articles for self improvement or life coaching this is what you might include:
6) Now, you're almost done. You want your gig to stand out from the others. Add as many different files as you can to show your clients just what you can do. A picture is worth a thousand words, right? Add images, documents and videos if possible. You'll be saying "Pick Me, Pick Me!"
7) That's it. Time to publish! You are now live, so sit back and wait to be notified of possible clients through Fiverr. Now you have to get the okay from Fiverr to promote your own gig! You can also promote through social media.
Think this One Through – Connect
If you are purchasing that doesn't cost much, then you should just continue and select the option "to buy." But whenever you are reaching deeper into your wallet, you'll want to reach out to the individual you'll be dealing with to discuss in detail because your project is a much bigger deal. (Maybe you're asking them to build a website)
In this case you'll want to talk to them about details and see how you both connect or not with working together. So, instead of the buy now button, you would click the "contact buyer now" button. This is important because you'll most likely be working with them long term as long as you connect and agree on everything.
**** Have more than one freelancer available to you. This is very important because you always want backup and I have found that sometimes you go back to hire that freelancer again that you've been using and they are no longer working on Fiverr! Diversify!
Fiverr Pros & Cons
Pros:
Prices are set up front.
Hire a freelancer in less than five minutes.
Fiverr site is simple to navigate.
It's your call to approve final gig in order for the freelancer to get paid by Fiverr.
You have the opportunity to work on a variety of gigs.
You can earn extra cash or spending money.
Fiverr provides a forum for questions and help
Cons:
All purchases are subject to a service fee of $2 on purchases up to and including $40, and 5% on purchases above $40. Seller pays 20% to Fiverr for everything they sell.
It can be limiting if the task could change over time.
Your client base is owned by Fiverr. Fiverr's policy on contacting people outside of Fiverr is extremely strict. Fiverr can and will deactivate your account with any notice of exterior marketing.
Some gigs might require excessive revisions.
May be difficult to have steady gigs in order to make money.
For The Buyer Your Fiverr Gig Is Finalized – What's Next?
You get a notification that your order is done!
Check everything thoroughly, including spelling, grammar, punctuation, etc.
If you've asked for revisions, then you have to wait until your seller completes that. If not then there's nothing else to do to complete your order except two things…
PROOFREAD & for buyers and sellers you need to check for plagiarism!
Use Copyscape to check for plagiarism! I cannot stress this enough! CHECK NOW!
If there is no plagiarism and you are satisfied, then accept your order and you're done and the seller gets paid. I always leave a good review when the freelancer does a great job. Do it. It's important!

Can You Make Money with Fiverr?
First let's start with what you must do as a Seller to get hired on Fiverr. There are 4 basic things you MUST do and be on top of because you are rated on their percentage ratings program.
Your response rate
Number of orders that you complete
A positive rating
How many orders you fulfilled on time
The down side of this system is that as a newbie you are at a disadvantage because you have no track record. The best thing you can do for having a better chance of someone hiring you is to follow these pointers: 
Start out charging only $5. You won't get any action otherwise. Don't worry, you'll build up.
Be sure that you are what you say you are and can deliver the goods. Be honest and as specific as you can. This is the way to one-up your competition.
Your profile describes YOU! Make it exciting to read and come off that you are the professional you say you are and that your potential clients will be enticed to read more and hire you. Pictures, slideshows and videos are extras because people will get more about you out of them than not having them in your profile.
Advertise your Fiverr link wherever possible. Don't leave any stone unturned or leave any money on the table.
The Pro version of Fiverr seller accounts is another awesome tool in your pocket once you are evaluated and approved. The odds of being hired increase with the Pro version to which it is also posted in your profile.
It may not be easy at first, but you have to hang in there and do the best that you can in order to get good reviews by providing professional on time work. You must avoid negative reviews if at all possible.
Go above and beyond what's expected of you. Always over deliver. You will reap the benefits later on.
Check out the forum page on Fiverr and check in every now and then with an article that contributes the forum. People will start to take notice!
Your profile is YOU! Make sure the reader can that your profile reflects the professionalism that you are trying to convey. The simpler and easy it is to read, the better you will shine. DON'T let your buyer skip yours and move to the next one!
Get back to your clients ASAP whether it's questions or about your deadline. Stay notified through the Fiverr app!
If you follow the above pointers you can make money on Fiverr. Just remember that it's not an easy start. Patience is a virtue. So hang in there and while you most likely make a ton of money, you can do okay at first and increase that as you go along.
In Conclusion
I wanted to cover everything in my Fiverr. Com Review. I may have gotten over winded a bit, but everything here is crucial for your success on Fiverr whether you're a buyer or a seller.
You can Join Fiverr by Clicking Below

Fiverr vs Wealthy Affiliate
It took me many years to find a program as good as my #1 recommendation. There isn't a better way to try something as good as this recommendation without a big investment. You are provided with many tools, 2 free websites with hosting, the absolute best training anywhere and no better support 24/7.
In my opinion there's no better way to make money online than my #1 recommendation. You can check it out for yourself in the comparison table below:
You can buy or sell on Fiverr
9.0/10
You have a huge variety of gigs to choose from
9.2/10
Nice way to earn extra cash
8.7/10
Pros
Fiverr site is easy to navigate
Hire a freelancer in less than five minutes
Good way to earn extra cash
Cons
May be difficult to have steady income
Seller pays 20% to Fiverr for everything they sell
Working Online From Home
Start Your Own Online Business
Learn the 4 Steps to Learn to Work Online From Home. Follow the Guide Step-by-Step. Includes Training, Support, & All The Required Tools to Get Started Online.